2021.Aug.02
EVENTS
Lecture by Ivana Bartoletti
"Power, Politics, & AI: Building a Better Future"
Please join us in a conversation with Ivana Bartoletti about the vision for an inclusive use of AI technology. Details are as follows.
【Date and Time】
Monday, August 30, 2021
6:00-7:30PM (Japan Standard Time)
【Speaker】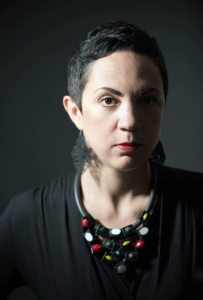 Ivana Bartoletti
Co-Founder of the Women Leading in AI Network
Visiting Policy Fellow at the Oxford Internet Institute, University of Oxford
Technical Director – Privacy, Deloitte
【Presentation title】
Power, Politics, & AI: Building a Better Future
【Abstract】
We all rely on technology, especially at this present time. From home working to the race to trace, tech solutions are offering new fantastic opportunities alongside new challenges. Drawing from her book, a journey into power, data and AI, Ivana will discuss the scale of the challenges we need to embrace to ensure tech benefits all – and show how diversity within technology is a crucial part of the journey.
【Short biography of speaker】
Ivana Bartoletti is a thought leader in the field of responsible technology. She is the author of An Artificial Revolution: On Power, Politics and AI (Indigo Press, 2020) and co-editor of The AI Book: The Artificial Intelligence Handbook for Investors, Entrepreneurs and FinTech Visionaries (Wiley, 2020). In 2019, she was awarded "Woman of the Year" at the Cyber Security Awards.
【Registration and Language】
・Format: Online (Prior registration necessary)
・Language: English (no Japanese interpretation provided)
・Moderator: Yuko Itatsu (Professor, Interfaculty Initiative in Information Studies, the University of Tokyo)
・Organized by the B'AI Global Forum, Institute for AI and Beyond, University of Tokyo
【Inquiry】
B'AI Global Forum Office
bai.global.forum[at]gmail.com(Please change [at] to @)